Confirmation running really is good for you for an infinite amount of reasons
... here's a few for you to share
When it comes to ticking all the right boxes for fitness, health and general well-being running does exactly that. Aside from the many health benefits of running, let's not forget it's great fun!
But even those most dedicated of runners amongst us have found that can be a tough ask at times especially after months of running on your own. It's raining outside, the wind has picked up and that cup of coffee option looks even more inviting. A day off beckons. It is common knowledge why running is good for you, but many people overlook the advantages of group running.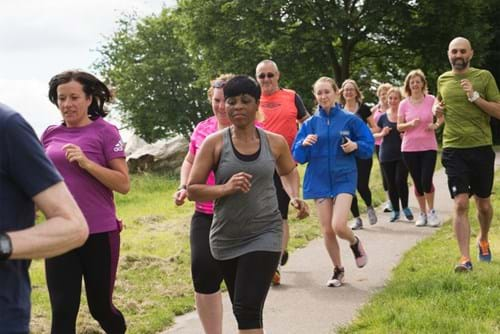 So, perhaps it's time to remind ourselves and others that group running is absolutely the best option. Group running is great whether you're dreaming of a PB this summer or simply want to keep on improving and learning.
We know, it's much more than simply sharing the workload (although that does count for a lot!), it's social, it's informative and testing if you want it to be. 
Running physiology will confirm that most of your running should come at an easy pace, chatting with mates. Even Sir Mo Farah uses his group for exactly that principle. Trawl through the history books and you'll easily find pictures of superstars from the past sharing a laugh but also lending a hand.
Sore Achilles? Someone will know the answer. What shoes are best for what surface you tend to run on? Is that new jacket worth the cash? A RunTogether group leader or member is there to help point runners in the right direction.
RunTogether, with its qualified leaders, is all about sharing ideas and organising group runs.  All RunTogether running groups are fun, friendly and supportive.
Of course, we are now emerging from these unusual times and reacquaint ourselves with what was once real life. It is normal to feel a little nerve wracking. Meeting friends and gathering in groups, things that felt so natural but might now be uncomfortable. There are a number of reasons why running is good for you and running in a group has everything on its side. After all, even if the group is feels large, as the run gets underway natural social distancing occurs. The best part of a summer of running has so much going for it's difficult to know where to start. Green space, oxygen, amazing scenery, wildlife. The list is long and the science will always confirm why running is good for you. Running is just about the best thing you can do for your mental and physical health.
So, if anyone in the group ever questions why is it worth lacing up their shoes and heading out for a RunTogether session you can remind them:
It's the summer so go run on the beach. A University of Exeter study showed people who spend more time by the coast live longer, have a more positive outlook and worry less. Add running into the mix, and that's a bonus boost for mental health. Beach running activates all the senses, invigorating both body and mind. The feeling of sand underfoot and the crashing of the waves allows you to let go of tension, recharging your mental batteries.
Equally, you go head to the forests. Running in woodland is exhilarating, with a mix of terrain to challenge you physically. And there are many other mental benefits, too. This environment hosts all sorts of plants and trees that give off various scents to reduce stress levels.
Or, of course, we have some amazing hills to enjoy. Researchers from University of California, Berkeley, found several benefits of running in mountainous areas. They showed that being in mountainous areas instils a sense of awe to reduce stress and improve overall well-being. Running in mountains gives a real sense of freedom and a literal 'on top of the world' feeling. Exploring mountain trails and jumping over rocks stimulates the nervous system and frees the mind. This is thanks in part to the lower levels of volatile organic compounds (VOC) in mountains, meaning there's clearer air to oxygenate your brain. It also helps your lungs expand more, which lifts your diaphragm and takes the pressure off your central nervous system.
Don't forget one of the simple benefits of running. Getting outside can help to boost vitamin D levels as well as ensure that your core strength and cardiovascular fitness is great.
Running  can help to lose weight. Most of us use around 100-120 calories per mile. This increases when the terrain is undulating with twists, turns and, of course, hills and perhaps sand on the beach!
In short
Running has been proven to boost self esteem
A single exposure to nature can lift your mood for up to seven hours
Spending time outdoors can reduce the risk of depression by 30%
Regular exercise can be a more effective treatment than taking anti-depressants
Being active improves sleep quality, while reducing stress and anxiety levels. Learn more about the benefits of running and sleep here.
Simple
And let's not forget, running is wonderfully simple. It doesn't need much specialist kit. All you need is a pair of running shoes and some lightweight breathable kit and you're sorted for the summer. It's a sport that fits perfectly into almost lifestyle. Haven't got time to run? Try running the final few miles of your commute by parking further away or getting off the train or bus a stop or two early. And of course, the school run is perfect to fit some training into your hectic day. Walk to school – it's almost like a mobility session, loosening you up – then run home. What could be better?
Green and blue spaces
One of the reasons why running is good for you is that the green spaces can have a cognitive impact on mental health. As can running in blue spaces ­– i.e. near water; there's that beach again! That simple route choice can have an emotional and cognitive uplift which is positive for us runners. In fact, a study from Translational Psychiatry found that combining meditation with running reduced symptoms of depression by 40% for depressed participants. Try it and see!
Running together
And remember, everyone in a group is running together. At RunTogether mental health is a year-round subject. The mental health charity Mind has reported that more than half of adults, and over two thirds of young people, say that their mental health has got worse during the pandemic. That's why RunTogether via England Athletics are hosting a series of online Let's Talk About Mental Health events throughout 2021 and 2022 – to get the sport talking!
Sharing and support
Through six speaker and panel sessions, we'll be sharing stories of personal mental health experiences, discussing what we can do to support mental health through athletics and running, and sharing how you can access support through our #RunAndTalk programme.
For more useful information about running visit our tips and advice page. If you have been inspired to try group running, then find a local running group near you.